Explore Endless Possibilities
The tough, OPUS OP2 forward-fold camper is an off-road warrior that's built for couples or young families seeking-out intrepid adventure.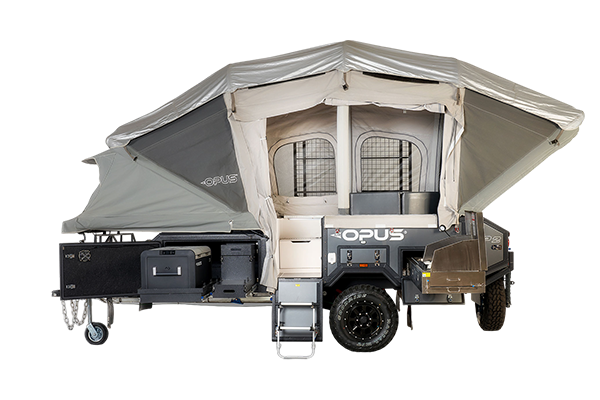 Interior
Exterior
Specifications
Interior
Exterior
One large king size bed, plush leatherette seating, fully-functional external kitchen and a spacious fully inflatable annexe. The new forward folding OPUS OP2 is made for 4WD adventures and is ready to go, are you?
Specifications
The OPUS OP2 camper trailer utilises air beam technology so that the camper's canopy and annexe fully inflate with just the touch of a button. And the best part – no poles to assemble! Air beam technology – the same used by the US Military – employs triple layer technology, ensuring extra durability & extreme reliability for your camping adventures. Being stronger and lighter than metal poles, they're also easier to set-up and lighter for travel.
Learn more
about our air beam durability.
Superior Off-Road Performance
The OPUS OP2 has been designed for full off-road adventure! Built with heavy duty coil springs, dual shock absorbers, off-road mud terrain tyres and a fully-galvanised chassis, this camper trailer can handle even the toughest of terrain!
With a ground clearance of 340mm and a serious rear departure angle, the OP2 is the true, no-nonsense off-road camper trailer. But add a low tare weight of 1450kg and it is adventure-ready for most standard SUVs or 4WDs.
The OPUS OP2 has everything you need for hassle-free, comfortable camping. A smart camper trailer complete with an ensuite, one comfy king-size bed, and a spacious, fully inflatable annexe, you can accommodate up to 8 people with the OP2.
The exterior slide-out kitchen, pantry and fridge (an optional extra) assures you won't miss a moment of fresh air as you prepare meals for the entire family and the roomy annexe assures, you'll be protected from any changes in the weather.
How does the OPUS look after 3 weeks in the Cape?
Browse our comparison charts with the specifications and features of all models.