Design - Innovate - Improve
We Offer Excellent Warranties
5 year structural, 5 year suspension, 3 year canvas and air tent, plus 12 months on fittings and fixtures. OPUS® warranties apply for the use of your OPUS® on any road or track that is trafficable to normal four-wheel-drive vehicles. Register your OPUS® warranty below.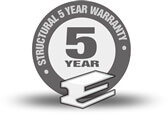 5 Year Structural Warranty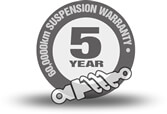 5 Year Suspension Warranty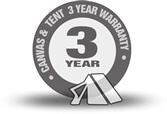 3 Year Canvas & Tent Warranty
The following information relates to warranties offered by OPUS®.
Please read all the information carefully, and should you have any questions relating to any aspect of this section, please contact OPUS®. By purchasing an item from OPUS®, you hereby agree to all terms and conditions of warranty as set out herein.
Disclaimer: Our product warranty, though comprehensive, does not exclude the rights and guarantees provided by Australian Consumer Law (ACL). In any conflict between our warranty and the ACL, the latter prevails. This safeguards your absolute protection as a consumer under Australian law. For more information about your ACL rights, visit the Australian Competition and Consumer Commission website. We're committed to ensuring a positive customer experience and are here to help with any concerns.
Warranties are valid to the original purchaser of the item in question and apply from the original date of purchase.
Warranties apply to items sold as "new" and do not extend to items sold via auction, or deemed to be "factory seconds", "ex-demonstration" or "damaged" unless specifically stated otherwise by OPUS® in writing. (See details later in this document.)
Warranties are not transferable. Also, if the original purchaser sells an item to a third party, the original purchaser cannot make any claims on behalf of the new owner.
Warranties do not apply to products used in hire schemes or as rentals.
OPUS® does not cover damage due to unauthorised modifications, misuse, abuse, incorrect assembly, improper and irregular maintenance, or accident or collision.
Any work performed under an authorised warranty claim approved by OPUS® must be performed by OPUS®, or an authorised representative of OPUS®, and only with the express written permission of OPUS®.
Affiliates, representatives, associates, agents, suppliers, resellers or similar of OPUS® shall have no authority to authorise or deny warranty claims on behalf of OPUS®.
OPUS® shall not be liable (in part or whole) for any warranties, either express or implied, made by agents or resellers on behalf of OPUS® without the knowledge or express written permission of OPUS®. Such unauthorised claims shall be the responsibility of the agent or reseller only.
Unless stated otherwise, trailers are covered by a 12 month limited manufacturer's warranty from the original date of purchase. In addition, there are 5 Year warranties on the suspension and the structure of the trailer.
Our goods come with guarantees that cannot be excluded under the Australian Consumer Law. You are entitled to a replacement or refund for a major failure and for compensation for any other reasonably foreseeable loss or damage. You are also entitled to have the goods repaired or replaced if the goods fail to be of acceptable quality and the failure does not amount to a major failure.
OPUS® Campers are designed for use on any road or track that is trafficable to normal four-wheel-drive vehicles.
OPUS® Campers can be exposed to water crossings where the water is below body floor level, but never where the water is at, or above, body floor level.
The following items are not covered under the OPUS® warranty:
Impact or stone damage to body, chassis or running gear.
Soiling of fabrics and internal fitments from dust and other airborne substances.
Water damage due to water crossings.
Movement or damage caused by dislodgment of appliances and fittings resulting from hard impact or heavy landings or severely rutted roads or tracks.
General damage arising from misuse.
Rust
Wheels and Tyres
Paint
Faults to canvas when stored wet.
Mould
General consumables such as bearings, light fittings, batteries etc.
Wear and tear when the trailer has been used for permanent living purposes.
OPUS® includes equipment and fittings, such as accessory brand cookers or pumps, which are separately warranted by their manufacturer and not covered by the OPUS® Warranty. If necessary, OPUS® will help an owner make a warranty claim to these manufacturers.
In addition to the express OPUS® warranty, the consumer may also be covered by other rights and remedies of the Australian Consumer Law in relation to the goods and or services to which this warranty relates.
Tents are guaranteed to be in new merchantable condition at the time of purchase. A limited manufacturer's warranty period of 3 Years applies to OPUS® canvas components, poles and fittings, air beams and valves. General wear and tear excepted. Zips and mesh or screens are not covered. Mould that has formed on the canvas is not covered.
Factory Seconds, Ex-Demonstration and Damaged Goods
From time to time, OPUS® may offer for sale items deemed to be "factory seconds", "ex-demonstration", or "damaged". Any such items are sold on an "as is" basis.
There are no warranties, refunds, credits, exchanges or similar associated with such items. In the sale of such items, OPUS® will attempt to provide all relevant information regarding the item, including faults, defects, or similar, however, there may be instances where minor defects or imperfections have been overlooked. This is purely unintentional and in no way alters the nature of the sale.
Due to the nature of such items, being "ex-demonstration", "factory seconds" or "damaged", it is reasonable to expect that some imperfections or flaws may exist even where it is not initially apparent. By purchasing such an item, you agree to this statement and accept that there are no warranties implied or expressed.
From time to time, OPUS®, may offer items for auction, either independently or via a third party. Whilst every effort will be made to provide all relevant information regarding the item on auction, as per Australian law, any goods bought at auction subsequently do not carry any statutory warranty. Goods sold at auction, by or on behalf of OPUS®, shall carry no warranty unless specifically stated in writing.
If you have any further questions relating to warranties, or are unsure about any aspect of this section, please contact us.